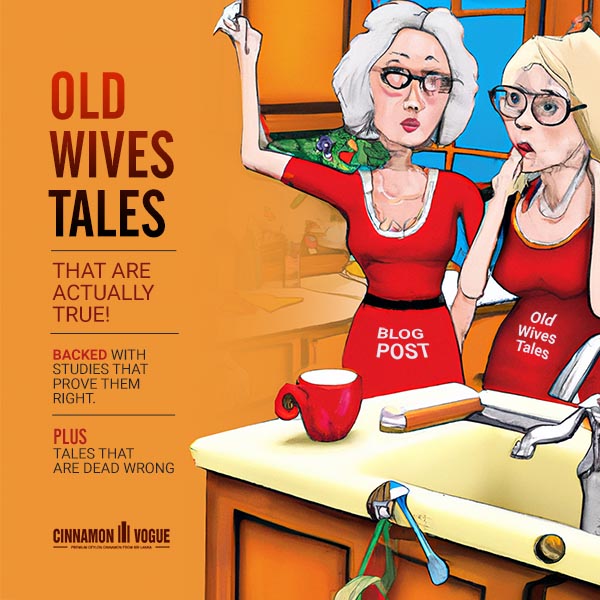 My girlfriend sent me one of those old wives tales articles that said a mixture of honey, cinnamon and lemon can help with weight reduction. I immediately flew into a rage and chastised her for it. This led me down a rabbit hole to discover old wives tales are actually true. Turns out that some old wives tales are actually true.
Old wives' tales are often passed down from generation to generation and, while some are purely superstitious and have no basis in fact, others actually have some truth to them. In this blog post, we'll take a look at 25 old wives' tales that have been proven to be true, supported by facts and figures.
18 True Old Wives Tales
9 Old Wives tales that are partially true
You should drink 8 glasses of water a day: The amount of water a person needs to drink each day can vary based on their age, gender, weight, and activity level. The general recommendation is to drink at least 8 cups (64 ounces) of water per day, but this can vary. It's important to listen to your body and drink when you're thirsty, and to drink more when you're exercising or in hot weather. This Healthline article explores the issues in more depth.
If you make a face, it will freeze that way: This old wives tale does not literally mean it remains frozen in that position. Rather it probably refers to facial expressions we make like frowning, scowling, grimacing.  Facial expressions are controlled by the muscles in the face so it is possible some people have cause to do this more frequently due to a health condition or patterning behavior which becomes a habit. Certainly I have a tendency to frown when concentration on this things and I have frown line on my forehead. Is it possible a lifetime of frowning while concentration has caused this? This blog post discusses these ideas.
If you have a headache, you are dehydrated: This old wives tale is not necessarily true. Headaches can be also caused by a variety of factors, including stress, tension, illness, and eyestrain. Dehydration can also cause headaches, but it is not the only cause.
Eating chocolate causes acne: It is often believed that eating chocolate can cause acne there are no studies to prove this except this one study  Acne is caused by a combination of factors, including hormones, genetics, and certain medications. While it is possible that eating large amounts of chocolate may contribute to acne in some people, there is no scientific evidence to support this claim.
You should not eat fish while pregnant: Fish is a good source of protein and omega-3 fatty acids, and it is generally safe to eat during pregnancy. However this is partially true due to the high levels of mercury found in fish especially large fish. This research indicates that prenatal exposure to the nutrients in fish improves neurocognitive development, including IQ, communication, and other developmental outcomes.6,7 Children whose mothers consumed a mean of 588 g (21 oz) of fish per week, the fourth highest quintile of consumption in the study population, had higher total scores for verbal, motor, memory, and overall cognitive development.
You lose most of your body heat through your head: It is often believed that you lose most of your body heat through your head, but this need a qualification. Only if your head is exposed to the elements. If go naked the then you would lose body heat evenly through all parts of the body. The human body is designed to regulate its temperature through the circulation of blood, and the amount of heat lost through the head is no different from the amount lost through other parts of the body. However even this statement is not backed with any studies. So, one could say you will lose more heat through your head especially if you have a bald head and otherwise well dressed. Mama was right.
Drinking coffee before bed keeps you awake: We put this on the partially true because some people actually sleep better with a cup of tea or coffee. While caffeine is a stimulant that can interfere with sleep, the effect it has on an individual can vary depending on their tolerance and their personal sensitivity to caffeine. This articles states that many people to suffer from sleeplessness, anxiety, frequent nighttime awakenings, and overall poorer sleep quality with coffee.
Biting your nails is a sign of anxiety: It is often believed that biting your nails is a sign of anxiety, but this is not always true. While nail biting may be a sign of stress or anxiety in some people, it can also be a habit that is formed for other reasons, such as boredom. According to this Psychology Today article Nail-biting can be a temporary, relatively non-destructive behavior that is merely a cosmetic concern, but it can also develop into a severe, long-term problem.
Wearing tight shoes can cause bunions: Bunions are bony protuberances that develop on the joint of the big toe. Wearing tight or ill-fitting shoes can increase the risk of developing bunions, as they put pressure on the toes and force them into unnatural positions.
11 Old Wives tales that not true
Drinking milk can cause phlegm: There is no scientific evidence to support the claim that milk causes phlegm. Phlegm is a thick, sticky mucus that is produced by the respiratory system to help protect and moisturize the respiratory tract. While milk and other dairy products may contribute to mucus production, they do not cause phlegm as found in this study.
Reading in low light can damage your eyes: Reading in low light can strain your eyes, but it will not permanently damage your eyesight. This article goes into a more in depth analysis of the subject. However, one thing to keep in mind is that your eyes do need Vitamin D which is best got from exposure to some late morning sunlight.
Honey, Cinnamon and lemon will help you lose weight. This health line articles does not find any credible evidence to support this theory. Perhaps cinnamon or lemon alone could help you lose weight but you would have to consume quite a bit of it which is not practical. Honey at the end of the day is sugar and is composed of 40% fructose and 30% glucose. Of particular concern is fructose which increases body fat in this mouse trial as cited in this article.
If you swallow gum, it will stay in your stomach for seven years: This old wives tale is not true according to Healthline. If you swallow gum, it will pass through your digestive system like any other food and be eliminated within a few days. Swallowing a large amount of gum at one time may cause digestive issues, but it is not likely to stay in your stomach for seven years.
Cracking your knuckles causes arthritis: There is no scientific evidence to support the claim that cracking your knuckles causes arthritis. Knuckle cracking is caused by the release of gas bubbles from the joints, and while it may be annoying to some people, it is not harmful. This study found there was no increased preponderance of arthritis of the hand in either group; however, habitual knuckle crackers were more likely to have hand swelling and lower grip strength.
Shaving makes hair grow back thicker: Shaving does not affect the thickness of hair. When hair is shaved, the blunt tip gives the appearance of thicker hair, but the hair is not actually thicker. Read this fascinating on Scientific American article which thoroughly debunks this old wives tale.
If you cross your eyes, they will get stuck that way: This old wives tale is not true. The muscles that control the movement of the eyes are strong and capable of moving the eyes back into position. Crossed eyes can be a sign of a medical condition called strabismus, but this is not caused by making faces or crossing your eyes on purpose. However, if you develop an obsessive-compulsive behavior with crossing eyes it is certainly possible to cause eye fatigue.
Eating at night makes you gain weight: It is often believed that eating late at night can cause weight gain, but this is not true. This study also comes to the same conclusion. Weight gain occurs when the number of calories consumed exceeds the number of calories burned, and it does not matter when those calories are consumed. As long as you maintain a calorie deficit over time, you will lose weight, regardless of when you eat. Read this Healthline article for a more in depth view.
Getting a haircut during a full moon can make your hair grow faster: There is no scientific evidence to support this claim, but it is believed that the extra moisture in the air during a full moon can help hair grow faster.
Wearing wet socks can cure a cold: It is often believed that wearing wet socks can cure a cold, but this is not true and there is no evidence to prove this either way. While wearing wet socks may make you feel slightly warmer due to the evaporation of the water, it is not likely to have any significant effect on the symptoms of a cold.
Knocking on wood prevents bad luck: It is often believed that knocking on wood can prevent bad luck, but this is not true. This old wives tale has its roots in ancient superstition, and it is not supported by scientific evidence. This habit dates back to pagan times, when it was thought spirits who protected us lived in trees, and touching or knocking on the tree would protect you from bad luck.
Avoid drinking milk after eating fish: Once again there is no scientific evidence to support this claim. Guess there is no money for such a study. But to be honest I have never had a milk or cheese after having fish. Wait a minute I did have a McDonald's milk shake after gulping down two fillet of fish burgers. Had no effect. Maybe this rule applies to particular types of fish. It certainly is possible.