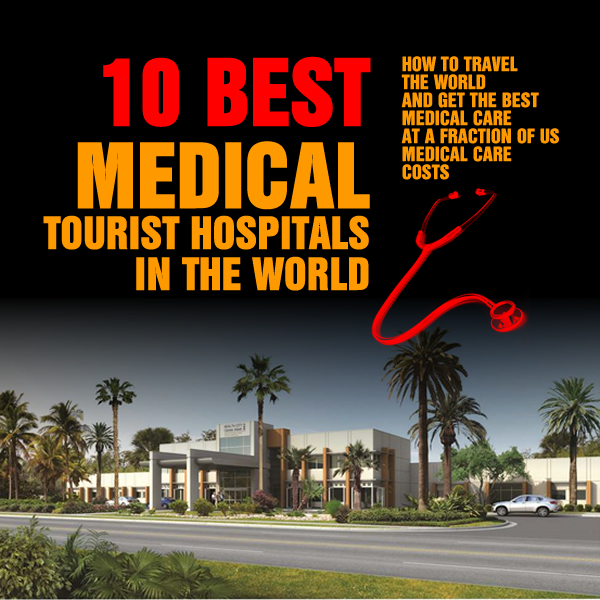 If you are not drinking Ceylon Cinnamon Tea and not following a healthy program of diet and exercise, at some stage you are going to need expensive medical treatment. Obamacare is not going to save you. A sudden medical emergency will still leave you financially drained. So now would be a good time to explore your options and be prepared in case something happens. When you plan your next vacation visit one of these hospitals. You will be truly impressed. We look at the 10 Best Medical Tourist Hospitals in the World and what makes them that good.
Greater Experience
We are led to believe that the American medical industry is the best in the world. It is not. The most expensive and inefficient? Yes. The first heart transplant surgery was performed in South Africa. Indian doctors do so many heart transplant surgeries these days, their experience levels far exceeds that of US doctors who complete a fraction of that. Kidney transplants, hip replacement, dental surgery, cosmetic surgery, laser eye surgery, cancer or whatever you need can be done by doctors and hospitals overseas who have vastly more experience.
Sophisticated IT systems
The foreign medical tourism industry has grown into a huge industry. And they are extremely good. They have to be. And they are using technology to deliver outstanding results. Your medical records are full integrated unlike many US doctors or hospitals. Their labs, operating theatres, and medical equipment is state of the art because the costs are spread over much larger number of patients. And IT systems are constantly upgraded with partners like Microsoft Health. to manage every aspect of patient care from medical records, customer relationship management to cost control analysis.
Few Monopoly Rules
Foreign hospitals are not protected with absurd rules and regulations created as a sickening thanks by congress for billions of dollars in campaign contributions  by our medical and legal establishment in the US.
Most US hospitals with a few exceptions are bland depressing places with poor amenities. By contrast many of these foreign hospitals are built like 5 star hotels with restaurants, coffee shops, book stores, massage rooms and comfortable lounges. The level of service and technical excellence at these hospitals is outstanding. Your every need is catered to, unlike in the US where staying at a hospital is full of shoddy food, sour nurses, technologically backward IT systems.
Low Cost
This New York Times article talks about $13000 hip replacement surgery, which would have cost $65,000 in the USA. CNN quotes "According to the World Travel & Tourism Council (WTTC), medical tourism contributed 9 percent of global GDP (more than US$6 trillion) and accounted for 255 million jobs in 2011. Forbes magazine cites the absence of strict FDA regulations (read Medical industry protector) and absence of absurd malpractice law as one of many causes of why foreign medical establishments are so much cheaper. You could say our lawyers and doctors have killed more Americans than all our wars combined. Costs are cheaper also because of the huge economies of scale, IT systems reduce duplication and waste, labor is far cheaper and medications and even brand name drugs are not given overly generous protections as in the US.
Multi Level Service
Most of these hospitals have dedicated relationship managers who will manage your entire stay from arranging immigration and visa related issues to airport pick up. Many have travel desks that can make travel arrangements, in house interpretation services, arrange low cost cell phone communication systems, provide Wi-Fi and high speed internet connections, offer a variety of international TV channels and arrange discounted accommodation at nearby hotels or provide luxury hospital rooms with well-staffed nurses for more intensive surgery patients.
These are our selection of the 10 best medical hospitals in the world in no order of ranking. We based this on hospital experience, cost, convenience, facilities, news articles, customer relationship management by the hospitals and technology integration among many variables.

Background : The brain child of British educated Dr. Devi Shetti, the sheer scale of operations at these 4 NABH accredited hospitals is astounding. Take a closer look the this excellent documentary done by Al Jazzeera
Field of expertise  : Cardiac Surgery, Cardiology, Diabetes and Endocrinology, Gastroenterology, General Surgery, Neurosciences, Maxillo Facial Surgery, Nephrology, Obstetrics and Gynecology, Orthopedics, Oncology, Pediatrics , Transplant,  Urology, Vascular Surgery.
2. Bumrungrad International, Bangkok, Thailand

Background : With 20 plus years in medical tourism and the pioneer in the field, this hospital, employs a sophisticated  IT system to deliver world class service. Everything from lab tests, x-rays, MRI, medical records management to procedure planning is well integrated. It gives you upfront costs, accommodation and an international patient center. Take your next vacation in Thailand and take one of their hospital tours and get a full check including a full MRI at a fraction of the cost.
Field of expertise : Cardiac Surgery, Cardiology, Spine Surgery, Orthopedic Care, Kidney, Neurology, Cancer, plastic surgery, Laser eye surgery, Fertility and IVF, Dermatology & Skin Aesthetic


Background : A 400 bed, JCI certified and NABH accredited multi-specialty tertiary care hospital. State-of-the-art Operating Theatres (OT) equipped with the latest equipment and Laminar airflow systems, to maintain internationally accepted sterility norms that minimize the risk of infection
Field of expertise : Anthroscopic surgery, Bariatric Surgery, Cancer, Coronary Angioplasty, Hip Replacement Surgery, IVF, Kidney Transplant, KiPlastic & Reconstructive Surgerydney Transplant, Microdiscectomy, Neuro Surgery, Plastic & Reconstructive Surgery.

Background : As anyone who has visited Singapore can attest, the place is spotless. You can expect the same with the hospital. Of particular note is the Cardiac Fixed price Packages, Oncoplastic Breast Conservation Surgery and the Bladeless Femtosecond Laser Cataract Surgery.
Field of expertise : Cardiology, Colorectal Surgery, Eye, Ear, Nose, Throat, Pediatrics, Pediatric surgery, Dental Surgery, Gastroenterology, General Surgery, Hematology, In vitro Fertilization, Infectious Diseases, Oncology, Orthopedics, Neuroscience, Obstetrics & Gynecology, Renal Medicine, Respiratory Medicine, Thoracic Surgery, Urology, Oncoplastic Breast Conservation Surgery, Bladeless Femtosecond Laser Cataract Surgery.
5. Prince Court Medical Center – Malaysia
 

Background : A highly rated hospital, it has coordinators that manage all international  patients from start to finish. Airport pickup, letters of appointment and visa extension with the Immigration office are arranged as needed. Special room rates for Prince Court patients have been negotiated at nearby hotels.
Field of expertise : Burn unit, Vitro Fertility
6. Asklepios Klinik Barmbek, Hamburg, Germany

Background : This hospital is a test bed for the latest medical innovations. It partners with innovative medical technology companies from Germany to test the most modern state of the art medical equipment before it is released Worldwide. Use Google translate when you visit their web page as it is all in German.
Field of expertise : General and Visceral Surgery, Anesthesiology and Intensive Care, Ophthalmology, Gastroenterology and Herpetology, Obstetrics, Gynecology and Breast Center, Cardiology, Neonatology, Nephrology / Diabetes / Dialysis, Neurology, Oncology / Palliative Medicine, Pulmonology, Sleep Laboratory, Thoracic Surgery, Traumatology, Urology
7. The Asian Heart Institute- Mumbai India 




Background : The hospital with one of the lowest heart surgery mortality rates in the world, and chosen by the Indian Prime minister for his redo bypass surgery. Over 17000 cardiac surgeries in 10 years, the sheer experience of this hospital is astounding. Plus an ISO 9001-2000 certified children's Heart Center
.Field of expertise : Robot Assisted Surgery, cardiac surgery, Coronary Artery Bypass Surgery, cardiology, Children Heart Centre, Preventive Cardiology and Rehabilitation, Physiotherapy.
8. Wooridul Spine Hospital – South Korea



Background : A hospital that only specializes in spine and joint injuries. A JCI accredited hospital that owns numerous hospitals in Korea as well as China, Indonesia and Dubai
Field of expertise : Spine and joint.
9. Bangkok Hospital – Thailand
Background : This hospital treats a huge range of illnesses grouped into packages with clearly marked prices. It even offers a Fast Track Service to clear customs and immigration and an air ambulance service. The hospital consists of separate hospitals spread aroud Bangkok specializing in different fields.
Field of expertise : Dental Packages, ENT Packages, Anti-Aging Packages, Eye Surgery Packages, Aviation Check-up Packages, Plastic Surgery Packages, Obstetrics & Gynecology Packages, Urology Packages, Surgery Packages, Orthopedic Surgery Packages, Spine Surgery Packages, Longevity Packages, Lasik Packages, Cancer Packages, Heart Packages, Vascular Surgery Packages, Health Check-up Programs, Neurology Packages
10. Health City – Cayman Islands

Background : Health City Cayman Islands, scheduled to accept its first patients in early 2014, will open with a 140-bed tertiary-care hospital in Grand Cayman as a Center-of-Excellence in cardiac surgery, cardiology & orthopedics. A joint venture between Dr. Devi Shetty of Narayana Hrudayalaya Hospital and Ascension Health Alliance of the US, this facility represents one of the most exiting opportunities for Americans with heart issues. Plans call for eventually expanding the facility to a 2000 bed hospital.
Field of expertise :  cardiac surgery, cardiology & orthopedics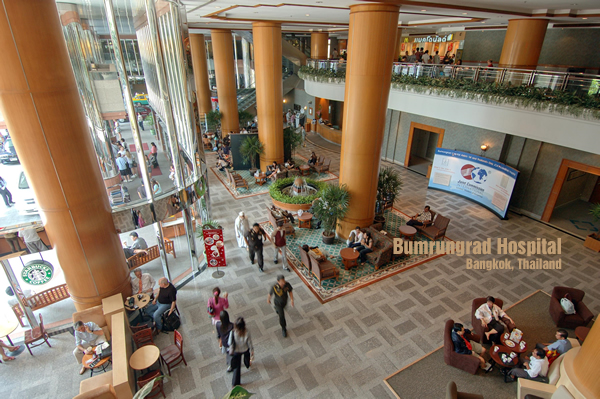 An honorable mention must go to Clemenceau Medical Center, Beirut, Lebanon and Anadolu Medical Center, Istanbul, Turkey, but these countries are too dangerous for American travelers.
Is medical tourism safe? Let's put it this way, the outcomes at these ten hospitals are some of the best if not the best in the world. They operate in a truly free market and rely on customer satisfaction and not a government granted monopoly as in the US. That means they have to try harder and be better than anyone else. One slip up and their whole business suffers. Of course there are many other foreign hospitals which are nothing but scams, so do your research.
Now is the time plan your next vacation with the location of the best hospitals in mind. In our own mind Thailand offers the best overall package of great vacation and medical facilities. Go take a tour and explore your options before it is too late and don't be blackmailed by the American medical system. And while you are there get a comprehensive medical check up at a very reasonable cost and take a tour of the hospitals. When the shit hits the fan you prepared.
P.S. Take some Ceylon Cinnamon Leaf Oil on your hospital visits. It is the leading all natural substance effective against anti-biotic resistant bacteria commonly found in hospitals that the best commerical disinfectants cannot get rid of. You may need it after surgery to reduce post operative infections.