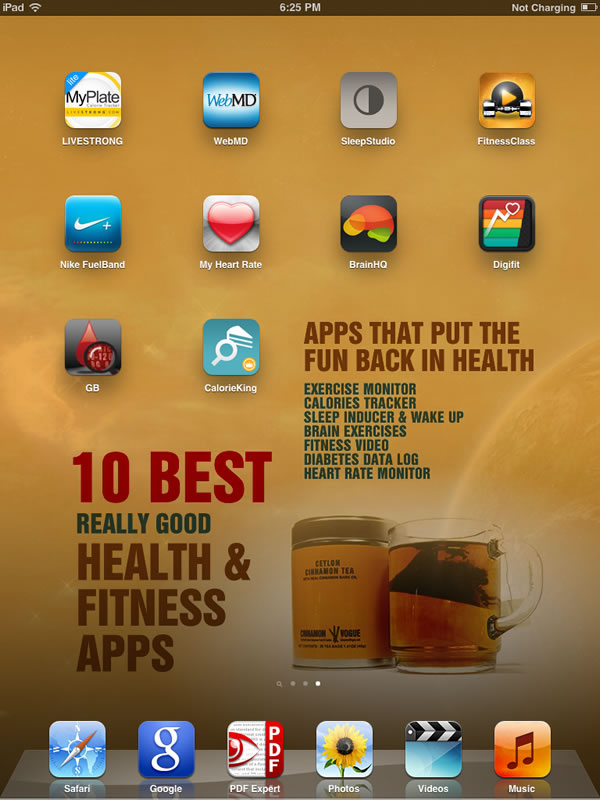 After extensive testing, we found the 10 Best Free Health & Fitness Apps you will ever need for 2013. These are solid Health and Fitness Apps that are genuinely good, really free and with very enticing and with reasonable upgrade paths into paid versions. The best of the Best Free Health and Fitness Apps for 2013 that we could find. While we tested these on the iPhone and iPad only, many of these Health and Fitness apps should be available on Android phones like the Samsung Galaxry S3/S4. But the important point is that these apps make healthy living fun, exciting, interesting and easy to do.
MyPlate by LiveStrong – This is a really good calorie counter that is very easy to use. It tracks meals by Breakfast,Lunch,Dinner,Snacks,Exercise and Water. It has a calorie counter for virtually any type of food including branded products like Smirnoff Vodka or Kellogs Cereal. You can adjust the portion size to get the exact calorie count. The upgrade to the full version is only $2.99 and well worth it.

Rating 9/10



Digifit – What is great about this app is that even the simple act of walking is rewarding and measured. You don't have to run to get fit, although you can do that too. Shopping and walking in the Mall is now a measurable workout and you are tempted to park the car on the other end to see what you can achieve with this app. You can select Bike, Run, Walk, Hike and Cardio among the programs. Uses your Smart Phone GPS to track your movements and measure your vitals. You can also share your results to email, Facebook, Twitter, Lose It, Training Peaks and a variety of social media. Talk about social pressure to keep fit. And you can play your music, get voice feedback like calories burned, elapsed time and distance. Wow! And the upgrades are Enable Sensors (Heart Rate, Pace,Cadence) – $2.99, Fitness Assessments – $3.99 & Custom Routines – $1.99.

Well worth the money

. Rating 10/10

WebMd – This apps is the mobile version of the well-known website and much easier to use. It's categorized into Symptom Checker, Conditions, Drugs & Treatments, First Aid Information, Local Health Listings and Saved. Really, the perfect app for a preschool teacher or any school where you have to check and assess so many children for illness. We looked at the symptoms checker, where you are presented with the figure of a body and you click on which part of the body had the symptoms. We looked on the head and selected fear of water and was promptly diagnosed with Rabies which gave us a good chuckle. It goes without saying this app is not recommended for hypochondriacs, but extremely useful for everyone else. Rating 10/10

Sleep Studio – An absolute fabulous app to put you to sleep and or gently wake you up. For putting you to sleep you can choose from soothing sounds or sleep guides which talk you into sleep followed by soothing music you can select or read you a book. Damn it works! It also has an icon for keeping a journal. Great place to record your dreams and tell your family about your dreams. Better not write about any weird dreams. Just the usual crazy ones. You might get into trouble. Under entertain me you have a selection of radio station categorized under classical, jazz, folk etc or it can access your own music collection. It can even go into the Sleep Studio Blog.

Rating 10/10.



My Heart Rate – This cool app checks your hear rate. All you have to do is look at your smart phone Camera or iPad Camera and it will measure your heart rate. It's pretty accurate. A great app if you need to monitor your heart rate regularly. And the upgrade to the premium version at 99cents is well worth it . Because you can check the heart rate using either the forward facing camera or the rearward facing Camera on your phone or tablet (if you have one that is)  I can see some great possibilities. If my children are lying I can just point the camera at them with some probing questions. If the heart rate goes up, we the know the truth. If your boss is lying about your salary increase you could ask to check his heat beat. On second thoughts better not. You might get fired and your heartbeat could break this app. You get the idea.

Rating 8/10



Brain HQ – This is an App that has a series of brain fitness exercise to make you think faster, focus better and remember more. A great gift for your ageing parents or your children before an exam. You start with a beginning challenge and once you complete those you can add other training modules like Visual Acuity, Maximize Your Game and Alertness Booster which runs from 45-70 minutes. Rating 8/10.

Nike Fuel Band – This is app is designed to make your Nike Fuel Band ($149) collect all the data. Even though I don't like Phil Night, CEO of Nike, this thing is pretty neat. Nike says it is a sports-tested accelerometer to measure your movement in NikeFuel, a universal metric of activity. The band is a bit pricey. I think in the future people might start wearing these kinds of bands as a very fashionable accessory that looks stylish, records all your vitals and then  emails them to your doctor or Google for analysis, tracks your exercise program and allerts you if you have been lazy, beeps if you eat bad unhealthy food, carries your bio data in case of an accident, tells the time and maybe even functions as your phone via a halographic display. Now that would be someting! Rating 7/10

Fitness Class – The best part about this app is that the videos are of very good quality. You can get plenty of videos for free, but you need to create an account. Normally we wouldn't want to sign up, but this is such a well done app, it's worth the account sign up. If you want unlimited class passes, it is $9.99 per month or $69.99 yearly. If you are a dedicated fitness buff then it's worth the money because they spent the money on creating good quality video. Rating 9/10.

Glucose Buddy – A great free diabetes app with reviews which are mostly positive. Combines blood sugar measurements with tracking of food and exercise. Data input is easy with the numerical keyboard and you can export the data, so your Doctor could have a look at it. The upgrade to the Pro Version is only $6.99. Rating 9/10

Calorie King – This apps will frighten you from eating anything. But boy is it good. It has calorie counts based for all major fast food outlets, most brands of food  and categories of food. It really is an impressive list of 170,000 food products. Lists all the calories, fat, cholesterol, sodium, carbs, proteins and calcium in virtually anything you might eat.

Rating 10/10
Now there is no excuse not to eat health and keep fit. The best part is that these apps make it fun. You can share it with social media to keep you motivated. Kind of like showing off your killer body at a pool party. If you are living, make it worth it living.