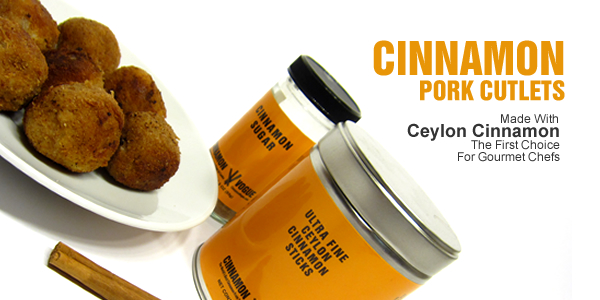 This Cinnamon Pork Cutlets recipe is adapted from the classic Sri Lankan Fish cutlet, which is a delicacy beyond compare. In this case we create a fusion of Pork, Cinnamon and Ginger to create an astounding flavor combination.
These cutlets do not have an overtly cinnamon smell or even taste. Sri Lankan Cinnamon tends to be sweet. It has a complex flavor that never takes center stage.  It's role in this recipe is to create a more sophisticated flavor from the  fusion of pork, ginger, pepper and garlic. Fresh ingredients are a must,  An exotic taste that has hints of everything yet comes to together to create a unique sophisticated taste of it's own. That is what separates an ordinary cutlet from the truly extraordinary. The magic is on the inside.
To make this requires patience. I would suggest sipping a glass of chardonnay. But not too much, because it also requires concentration and attention to detail. And you should never be hungry when you do this because you will end up eating it as you go. Just sip the Chardonnay  Create a good work space, have all the ingredients well prepared and follow the instructions to the letter. Deviations can be costly. First time we did this we drank too much Chardonnay, messed up the ingredients and burned the cutlets.
Ingredients
1 lb. minced pork (without fat)
2 lbs potato
1 Ceylon Cinnamon stick
2 tsp. Cinnamon sugar
1 tsp. Dijon mustard
1 tsp. crushed fresh ginger
2 tsp. Cayenne pepper (or chili powder)
1 tbsp. Salt
1 tbsp. crushed garlic
1 onion cut into very small cubes
2 eggs whites
Bread crumbs
Directions

PART A  – (30 minutes)
Peel the potatoes and boil with the lid closed for 20 minutes
Remove from water and let the potato drain well
PART B (5 Minutes)
In a small bowl, separate two eggs from their yolk
Add one tbsp. of water and beat the egg whites and set aside
Get a sloping dinner plate and spread the bread crumbs
PART C (25 minutes)
Add 2 teaspoon of olive oil into a pan, let it heat on medium heat and then put in the minced pork after 3 minutes
Add Cinnamon stick, Cinnamon sugar, Dijon mustard, fresh ginger,Cayenne pepper, salt,crushed garlic.
Cook on medium until the ground pork is well cooked. About 10-15 minutes depending on your pan and how much you stir
PART C – (15 Minutes)
Using your hand, grab some of the mince pork & potatoes mixture and make it into small ball in the palm of your hand. (Clean hands please)
Dip the ball in the egg whites
Roll the minced ball in the bread crumbs
PART D – (30 Minutes)
Heat half cup of olive oil on medium (Takes about 5-8 minutes to this)
Add the breaded cutlet (the oil should cover about 1/3 of the cutlet)
Let it fry for about 2 minutes
Turn it over and let it fry for another 1-2 minutes on the other side.
Serve the pork cutlets with Ketchup or far better with Mrs. Balls Chutney, a South Africa chutney that is just superb. If you want you can add some extra chili to make this cutlet a bit hot and then compliment it with a glass of Cinnamon Tea with sugar or honey. The hotness of the cutlet and sweetness of the Cinnamon Tea creates a wonderful taste sensation.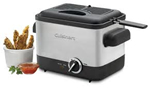 Note: Ideally you want to use a mini deep fryer for this. That way the cutlets fry perfectly  with a lovely golden brown color and burning scraps of bread crumbs from the previous batch won't stick to the cutlet.  I found this deep fryer from Cuisinart which look pretty good.